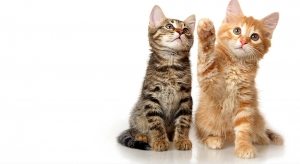 Kitten Wellness Plans in St. Petersburg, FL
Kittens are cute, cuddly, furry, and also naturally curious animals. So how can you make sure that your kitten is prepared for all that life may throw at him or her? As much as we wish our kittens wouldn't ever get sick, it is always a possibility. Male or Female, there are preventative health measures that you can take to make sure that your curious little kitten turns into a beautiful and healthy adult cat. Kitten wellness plans are almost always recommended to make sure your kitten is happy and healthy.
At Baycrest Veterinary Hospital, we provide preventative pet health wellness plans specifically designed for kittens. Our kitten wellness plans are designed to make sure that your kitten has all of, his or her, healthcare needs met from the day they arrive, until they are ready for one of our adult cat wellness plans. Most of all, these kitten wellness plans are priced at a discount over the individual costs of these services. As a result, you don't have to spend an arm and a leg to keep your kitten healthy.
Baycrest Veterinary Hospital Kitten Wellness Plans
Our comprehensive wellness plans for your kitten include a large number of pet health services that were created just for baby felines. Below you'll see a list of almost all of the services that are included in our kitten wellness plans:
Hysterectomy or Castration (Spay or Neuter)
Office Visits (Unlimited)
Comprehensive Exams (2x)

Weight Assessment
Coat & Skin Evaluation
Dental Examination
Ophthalmic / Otoscopic Exam
Pulmonary Evaluation
Abdominal Palpation
Rectal Exam
Neurologic Evaluation
Musculoskeletal Evaluation
Urogenital Evaluation

All Recommended Vaccinations
Rabies Vaccination
Internal Parasites Fecal Exam (2x)
Feline Heartworm Test (as needed)
Internal Organ Function Panel
Blood Sample (collect/prep)
Blood Cell Count
Blood Cell Differential Exam (2x)
These plans also include discounts on services that aren't included. You'll get 10% off any services that aren't included in the service list as well as 15% off radiographs.
Why You Should Enroll Your Kitten Today?
At Baycrest Veterinary Hospital, in St. Petersburg, we understand that your kitten is likely one of the newest members of your family. Because we care so much about our animals, our veterinarians want to help you take the right precautions to ensure that your kitten turns into a healthy adult cat. Making sure your kitten has the right vaccinations from a young age can help prevent sickness. Spaying or Neutering your kitten can also stop unwanted pregnancies. Perhaps more noteworthy these surgeries also provide health benefits for your pet. Always remember that the wellness plans we offer are not insurance, which is primarily used after an illness has occurred. By focusing on preventative care, rather than after injury care, wellness plans are often able to prevent costly illnesses before they happen. So make sure to schedule and appointment online or call us at 727-954-8820 to make an appointment today.