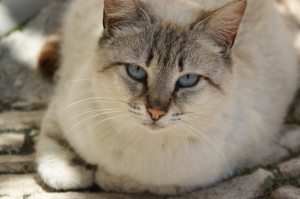 Wellness Plans For Your Cat in St. Petersburg, FL
When it comes to adult cats, male or female, you want to make sure that they have the healthcare they need to be happy and healthy for a long time. At Baycrest Veterinary Hospital we offer wellness cats specifically for your adult cat in St. Petersburg, Florida. Our wellness plans are designed to make sure your cat has their healthcare needs met all year long, at a discount to you.
What's Included in Our Cat Wellness Plans
Our comprehensive wellness plans for your adult cat include a large number of pet health services that are specifically tailored to adult felines. Below is a list of services that are included in our animal wellness plans:
Dental Prophylaxis ** Before purchasing a wellness plan as us about this.
Office Visits (Unlimited)
Comprehensive Exams (2x)

Weight Assessment
Coat & Skin Evaluation
Dental Examination
Ophthalmic / Otoscopic Exam
Pulmonary Evaluation
Abdominal Palpation
Rectal Exam
Neurologic Evaluation
Musculoskeletal Evaluation
Urogenital Evaluation

All Recommended Vaccinations
Rabies Vaccination
Internal Parasites Fecal Exam (2x)
Deworming: Round Work & Hook Work
Leukemia/FIV Test
Feline Heartworm Test (as needed)
Internal Organ Function Panel
Blood Sample (collect/prep)
Blood Cell Count
Blood Cell Differential Exam (2x)
These plans also include discounts on services that aren't included. You'll get 10% off any services that aren't included in the service list as well as 15% off radiographs.
Why Getting a Wellness Plan is Important
At our animal clinic we understand that your cat is a member of your family. Making sure that your cat has all of his or her healthcare needs met on an ongoing basis is important to keeping your cat happy, health, and living a long time. Catching a health problem early is very beneficial in diagnosing and coming up with the proper treatment plan for the health of your cat. Remember, wellness plans are NOT insurance, insurance focuses on issues that are already happening, where wellness plans are geared towards the preventative healthcare needs of your cat. Contact us online or call us at 727-954-8820 and ask us about the cat wellness plans offered by Baycrest Veterinary Hospital.