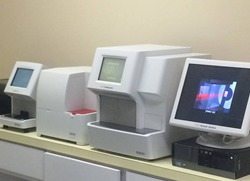 Diagnostic Medicine For Animals St. Petersburg, FL
At Baycrest Animal Hospital, so that we can do our best to ensure the health of all of our furry patients. We have in house labs so we can quickly do blood work and we also have digital radiology, x-ray, and ultrasound machines so we can quickly and accurately diagnose the best way to treat your animal.
When you bring your pet in to see the veterinarians, at Baycrests' Animal Clinic in St. Petersburg, we will work quickly to identify any potential health issues that may be affecting your cat, dog or exotic animal. Once we've finished with this, we will only use any diagnostic instruments that are needed to determine any health issues that your pet may be having. Our trained veterinary staff will try to do everything possible to ensure an accurate and quick diagnosis so they can figure out what the right treatment plan for your pet is.
Diagnostic Services Offered at Baycrest Veterinary Hospital
Whether you are bringing your pet in for a routine office visit or for an emergency call, the staff at Baycrest Veterinary Hospital will make sure to use some of the latest technology to ensure the health of all of our furry patients. Because of our commitment to compassionate, accurate, and affordable services, we provide several tests for the following diagnostic services for cats, dogs, and other animal companions you may have:
Blood Testing & Blood Work
Fecal Samples
Clotting Factors
Urine Samples
Examination & Aspiration of Unusual Masses
Dental Examinations & Dental X-rays
Heartworm Testing
Parasite Testing
And more
We like to make sure we're thorough and because of this we make sure that our labs are equipped with the right tools to diagnose most illnesses found in animals. Our state-of-the-art technology allows us to diagnose your pets with confidence and in a timely manner, so we can start treatment as quickly as possible.
Contact Baycrest Veterinary Hospital in St. Petersburg
As always, at Baycrests' animal clinic, we want to make sure that money isn't a determining factor in the health of your pet. We make sure that we match all of our competitor's pricing and we want you to have the confidence that we will provide affordable veterinary services from trained veterinarians. Call us at 727-954-8820 or contact us online to ask us more about our diagnostic services for your pet!